Oh, the nostalgia.
Last weekend, we participated in a photo scavenger hunt, designed by a friend in honor of her husband's birthday. Inhibition was in the wind as we approached perfect strangers, asking them to take pictures of us wearing hard hats in home depot, jumping off a step, climbing on each other to form a human pyramid.
The adventure took me back to the days of early high school and church youth group, when things like scavenger hunts and impromptu 80's parties found us on a regular basis.
Gone was all the pride and dignity of a group of friends in their mid-to-late twenties, replaced by the silliness and wacky confidence of adolescence. My team may not have won, but we sure had a great time losing.
Here are some of my favorite moments:
MISSION: Human pyramid.
(I really thought the guy taking this picture was going to run off with my camera. I was prepared to jump off the pyramid and chase him.)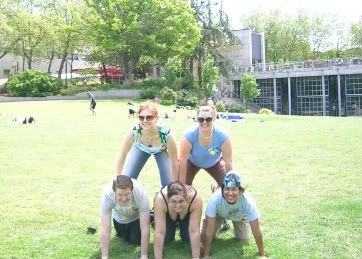 MISSION: Jumping.
(Everyone's feet had to be off the ground.)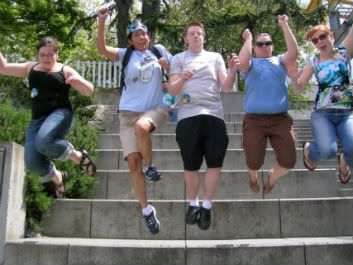 MISSION: Sliding down a slide.
(
Bonus points if it's twirly!)
MISSION: Group hug.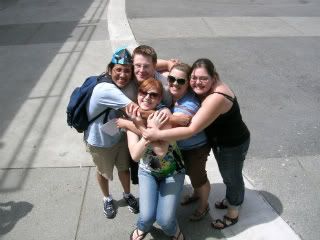 MISSION: Use selves to spell out a word.
(Can you read us?)
MISSION: Record re-enactment of a scene from The Sound of Music.